NorthShore has recognized two exceptional physicians by appointing them to donor-gifted endowed chairs: Mohammed M. Minhaj, MD, MBA, FASA, FACHE, Chairman of the Department of Anesthesia at NorthShore, and Leslie Mendoza Temple, MD, ABOIM, Medical Director of the NorthShore Integrative Medicine Program. Established thanks to the generosity of donors, an endowed chair represents the highest level of prestige at academic medical institutions and fosters excellence in care, research and medical education.
Named to the Harris Family Foundation Chair of Anesthesiology, Dr. Minhaj is active in his area of expertise and is recognized nationally. In 2021, he was elected to the prestigious Board of Directors for the American Board of Anesthesiology and recognized with the Distinguished Educator in Anesthesiology award from the American Society of Anesthesiologists/Society for Education in Anesthesia.
The Harris Family Foundation established the endowed chair through a $1.5 million gift in 2007. The Chicago-based foundation provides philanthropic support primarily for Jewish charities, early childhood education, education, cultural institutions and museums, social services, hospitals/medical centers, housing and economic development.
---
Dr. Minhaj has built a distinguished career in Anesthesia as a clinician, educator, and researcher, and his appointment to the Harris Family Foundation Chair is very well deserved."

J.P. Gallagher, President and Chief Executive Officer of NorthShore – Edward-Elmhurst
---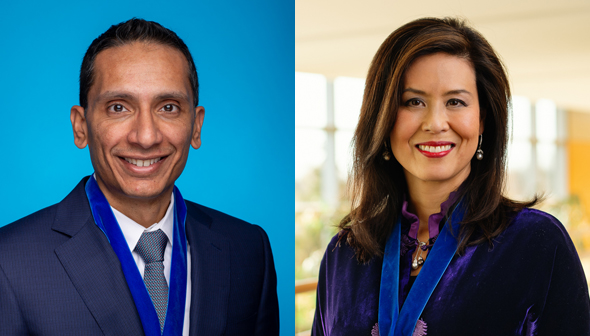 ---
We are delighted to fund this newest of our four endowed chairs at NorthShore, and remain very proud of the work accomplished by the eleven physicians who have served as Coon Chair holders since the Foundation established the Louise W. Coon Chair of Medicine at Evanston Hospital in 1970. Serving as the twelfth Coon Chair holder, we anticipate that Dr. Temple's achievements alongside her colleagues in the Integrative Medicine Program will be nationally recognized as a guiding light. Combining advanced modern medicine with ancient wisdom, this evolving approach is one more and more people are seeking for both prevention and healing. We are excited to continue to support these innovative endeavors at NorthShore."

Elizabeth Coon Martin, President of the Owen L. Coon Foundation
---
Named as the inaugural holder of the new Owen L. Coon Chair of Integrative Medicine, Dr. Temple is the Medical Director of the NorthShore Integrative Medicine Program—a specialty she has led since 2006. She served as Chair of the Medical Cannabis Advisory Board for the Illinois Department of Public Health, appointed by then Illinois Governor Pat Quinn, and is a former Chair of the Policy Working Group for the Academic Consortium for Integrative Medicine and Health. Dr. Temple holds the academic title of Clinical Associate Professor of Family Medicine at the University of Chicago Pritzker School of Medicine.
The Owen L. Coon Foundation, which celebrated its 75th anniversary last year, was formed by the late Owen L. Coon (1894–1948), an Evanston-based business executive and philanthropist. Now led by a board made up of subsequent generations of his family, its mission is to promote public benefit through its contributions in order to continue Coon's vision of "giving people better opportunities so they can be of greater value to society."