Getting to the Heart of It All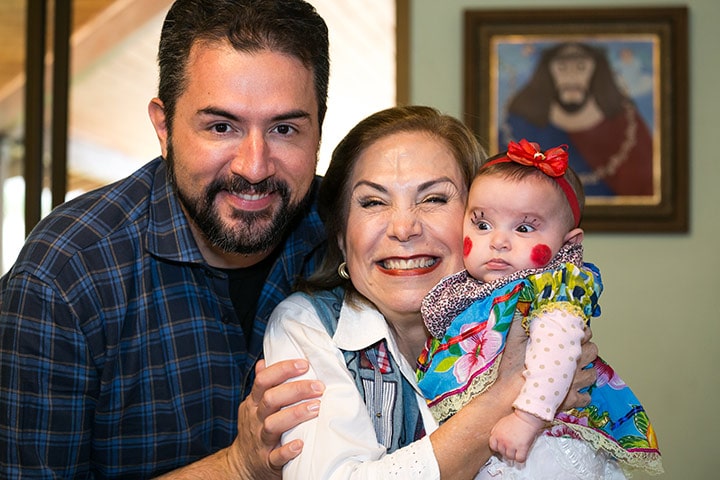 Retired English teacher Luziana is an energetic woman who loves nothing more than spending time with her family—especially her grandchildren. In 2019, she was diagnosed with a rare, degenerative heart condition.
Luziana and her cardiologist searched tirelessly for a surgeon—but they couldn't find anyone in her home country of Brazil who was trained to perform the complex surgery needed to save her life. They decided to look further and were truly fortunate to find Hyde Russell, MD, a cardiothoracic surgeon who specializes in rare cardiac conditions here at the NorthShore Cardiovascular Institute. Five thousand miles and five hours of open-heart surgery later, Luziana's heart was mended and her future bright.
Today, Luziana is thankful to be back home, creating memories with her grandchildren—moments made possible by the lifesaving care she received at NorthShore and the philanthropic support of our Foundation.
About the NorthShore Cardiovascular Institute
Cardiac disease is a lifelong challenge, and we at NorthShore are here for every step of a patient's health journey. Our complete approach to cardiac care means we care for the whole person—not just the heart. And generous community support helps ensure that every patient who needs care receives it with open arms, regardless of their ability to pay or where they call home.
At NorthShore, world-class heart care begins before diagnosis. Genetic testing is a key strength of the Cardiovascular Institute because we're dedicated to preventing heart disease deaths through proactive, personalized care. Philanthropic support makes this testing accessible to our neighbors who are underinsured or experiencing poverty.
Philanthropic partners like you also help fund exceptional training for our care teams and have allowed us to provide support services like medication assistance and weight loss programs when people need them. With your support, we can expand these whole-health offerings to include social workers, nurse navigators and others to compassionately guide patients through the realities of chronic disease. Your generous gifts ensure that our patients receive the very best heart care today and for generations to come.
Additional Resources
The Cardiovascular Institute Pavilion
Contact Our Team
Walt Cody

Director, Philanthropy

It's immensely gratifying to help donors achieve their philanthropic goals. Gifts to NorthShore improve every patient experience and enhance our ability to realize the full potential of our caregivers. Sustainable philanthropy is the cornerstone of healthy communities.
The Four Pillars of the Cardiovascular Institute
Research shows that physician shortages are likely to occur in the next five years. NorthShore is taking steps to prevent those shortages by training the next generation of cardiovascular physicians. Our robust cardiology fellowship and residency training programs, along with access to research and teaching opportunities, attract top level talent and aid in recruiting top physicians. Philanthropy supports educational programs for these clinicians so NorthShore can maintain its acclaimed expertise.
NorthShore Cardiovascular Institute provides the community access to exceptional physicians, cardiovascular surgeons, cardiologists and vascular medicine specialists, all working together to ensure highly personalized patient care.
NorthShore takes pride in recruiting the very best and brightest clinician-scientists across a variety of cardiovascular specialties. Philanthropy helps us invest in other priorities, too, like building and enhancing our outpatient care capabilities using the latest imaging methods and technology.
Pioneering research brings top talent from across the country to NorthShore. With philanthropic support, research continues at a rapid pace—saving lives.
Thanks to NorthShore, I have a second life. The care I received was incredible. My doctors thoroughly explained my options and were very involved throughout my care."

Ilham Ganiyev, NorthShore Cardiovascular Institute patient
I owe my recovery to my team at NorthShore, who has kept me going since my diagnosis and did not dismiss my odd symptoms. I owe everything to the doctors who cared for me with compassion and skill."

Marla Cowan, donor, patient, volunteer
I was drawn to the cardiology fellowship at NorthShore because of the research program, as well as the remarkable physicians who are my teachers and mentors. I truly believe there are no limits to what we can do for patients here."

Luis Paz Rios, MD, Cardiovascular Institute Fellow