Caring for Current and Future Generations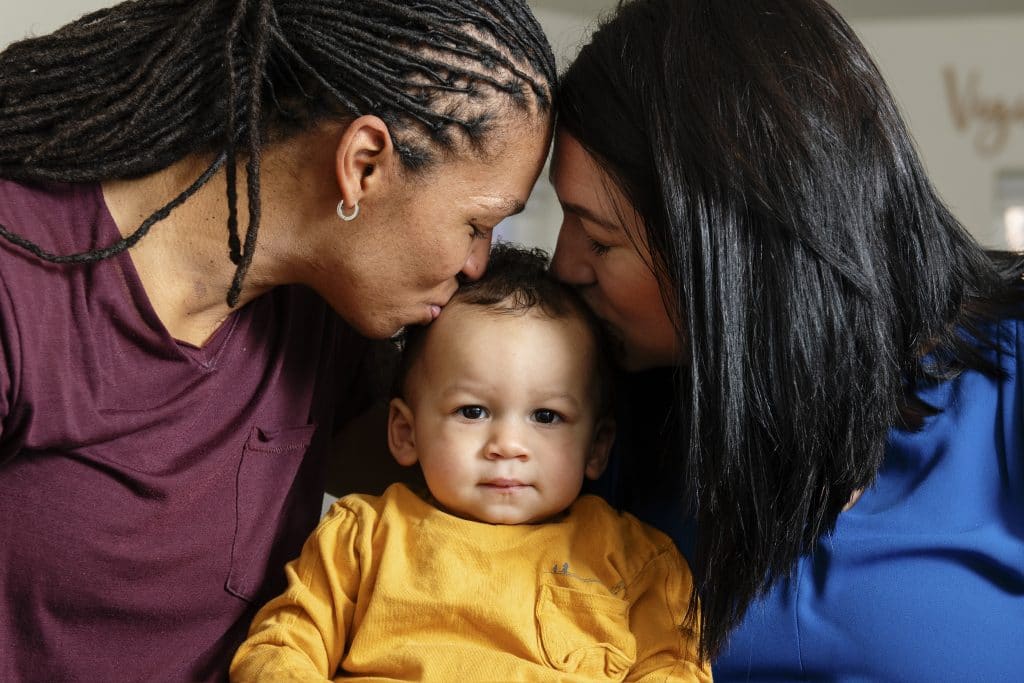 Brandi had a very clear plan for how she wanted to deliver her son Lennox. She wanted a personalized, natural experience without pain medication or IVs. So, when Brandi and her wife Darcy were looking for healthcare providers, NorthShore was the obvious choice with its range of holistic women's health services.
The couple partnered with certified nurse midwife (CNM) Rachel Blumenthal at Swedish Hospital for support through Brandi's pregnancy, labor and delivery. Besides providing the highest quality of medical care, Rachel and her fellow CNMs offer education, advocacy, psychological support and more for the moms in their care.
This blend of medical and personal care—as well as the respect for a parent's wishes—made a huge difference for Brandi during her days-long labor with Lennox. Rachel never pressured Brandi to change her birth plan and instead instilled confidence in Brandi throughout her labor. Today, Brandi and Lennox are both healthy and happy. In fact, the entire family paid Rachel a visit to mark Lennox's first birthday.
About Obstetrics & Gynecology
At NorthShore's Department of Obstetrics and Gynecology (OB/GYN), we're committed to providing innovative, compassionate and culturally sensitive care throughout a person's health journey.
Besides conducting novel clinical trials and sophisticated research studies, NorthShore provides support for a full range of reproductive and infant health needs. Many of these services are possible only because of our philanthropic partners. For instance, our SAVE MOMS program offers maternal health tracking both before and after a woman gives birth to pick up on signs of perinatal depression—and then intervene if necessary. This lifesaving service was established thanks to funding from the NorthShore Auxiliary.
We're also passionate about racial equity in maternity care. In Illinois, there's a staggering disparity in maternal and infant mortality for people of color. Our team at NorthShore, along with our partners at the Illinois Perinatal Quality Collaborative (ILPQC), work tirelessly to improve outcomes for mothers and babies of all backgrounds.
Philanthropy is essential to advancing women's health initiatives in our community. It funds the groundbreaking research, clinical trials, diagnostic tools and person-centered programs that set NorthShore apart from other healthcare providers. Philanthropic partners like you are at the heart of this work. Your generosity helps us make a difference in more women's lives—ensuring that moms and their babies receive the best care possible.
Additional Resources
Contact Our Team
Danielle Maihofer

Director, Philanthropy

I'm proud to make meaningful connections between patients and their physicians at NorthShore. Philanthropy has the power to accelerate research, bring comfort to patients and their families, and build essential health services for the community.
What Your Gift Can Do
NorthShore's Department of Obstetrics and Gynecology is tackling the disparities and inequities in maternal and infant mortality for people of color. This important initiative is being led by Ann Borders, MD, MSc, MPH—a NorthShore OB/GYN and maternal-fetal medicine specialist—in partnership with the Illinois Perinatal Quality Collaborative (ILPQC).
Today, Black women are six times more likely to die from a pregnancy-related complication than white women, and infant mortality in Illinois is two to three times more likely for Black infants than for white infants. Philanthropy helps NorthShore and the ILPQC fight for better outcomes for women and babies of all backgrounds—making Illinois a safer place to start a family.
Prevention can be the key to decreasing the frequency and severity of ovarian and uterine cancer. With support from Bears Care and other philanthropic partners, Gustavo Rodriguez, MD—NorthShore's Matthews Family Chair of Gynecologic Oncology Research—has developed a treatment that may be effective in preventing ovarian cancer as well as cancer that occurs in the uterine lining, which is the most common gynecologic cancer.
As this treatment gains ground, Dr. Rodriguez hopes to also develop pharmaceuticals that can prevent such cancers.
NorthShore's perinatal depression program provides screening for depression in all pre- and postnatal patients, as well as a live support hotline for at-risk women. Services like these have been in particularly high demand throughout the COVID-19 pandemic.
Financial support from the Satter Foundation and the National Alliance on Mental Health funded the development and testing of a smartphone app to identify women at high risk for mood disorders before and after childbirth. Co-investigators Richard Silver, MD, and Jo Kim, PhD, published research validating this mobile health technology as a promising strategy.
SAVE MOMS is a data-driven solution for protecting and preserving maternal health. In the United States, severe maternal complications before, during and after childbirth continue to rise. NorthShore is tackling this problem head-on.
SAVE MOMS identifies early indicators of potential risks by using Epic, NorthShore's sophisticated electronic health record system, to continuously track the health of an at-risk mother-to-be before, during and after delivery. This way, the healthcare team is alerted to monitor and provide treatment to avoid a potentially dangerous situation. Funds raised by the NorthShore Auxiliary support SAVE MOMS.
Our generous partners make it possible for us to provide tangible resources to help families through NorthShore's Perinatal Family Support Center. The Center's services help women and their families face challenges related to pregnancy, childbirth, prematurity and perinatal loss.
Clinical staff from several specialty areas work together with nurses and physicians to help families in need of crisis intervention—providing emotional support and links to community resources that promote family stability. The Center's inpatient and outpatient services work as a team, drawing on best-known practices nationwide, to make sure patients are treated with compassion and that their culture and ethnicity are reflected in their care.
More than 50% of women in the United States suffer from painful periods, putting them at risk for chronic pelvic pain disorders. Frank Tu, MD, MPH, and Kevin Hellman, PhD, of the Division of Gynecological Pain and Minimally Invasive Surgery, are co-investigators of the National Institutes of Health-funded "EMPATHY" study. The study explores which factors can promote menstrual pain and may be able to identify who's more likely to develop chronic visceral pain and general sensory sensitivity.
I work at the intersection of clinical care, research and advocacy, and I know we can offer even the most vulnerable women among us the opportunity for a safe pregnancy and a healthy baby. That's why I come to work each day."

Ann E.B. Borders, MD, MSc, MPH, Physician, Division of Maternal-Fetal Medicine, Department of Obstetrics and Gynecology
The wonderful team of nurses came to my aid like angels, reminding me that there's love and gentle compassion despite the sorrow."

Jessica Shell, Perinatal Family Support Center patient
A lot of horrible things can happen with preterm labor. We were lucky, but a lot of people aren't. My husband and I are grateful to be able to play a part in supporting research here at NorthShore and hope it helps a lot of people."

Kristen Hertel, Satter Foundation