NorthShore recently recognized two physicians by appointing them to endowed chairs: Mark Ricciardi, MD, Clinical Professor of Cardiology at the University of Chicago Pritzker School of Medicine, and Bridget Wild, MD, FAAP, CHSE, Clinical Associate Professor of Pediatrics at the University of Chicago Pritzker School of Medicine. Established thanks to the generosity of donors, an endowed chair represents the highest level of prestige at academic medical institutions and ensures excellence in care, research and medical education.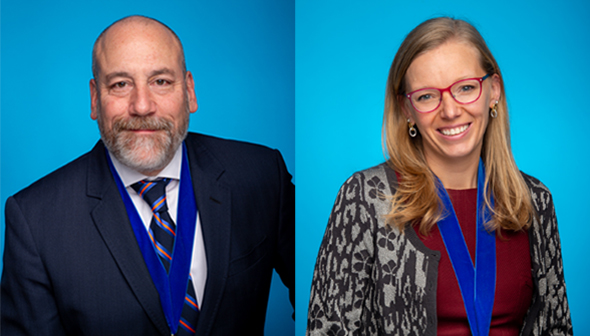 Named to the Mr. and Mrs. Charles R. Walgreen Jr. Chair of Cardiology, Dr. Ricciardi is the Director of Interventional Cardiology and Structural Heart Disease Clinical and Research Programs at NorthShore. Dr. Ricciardi's expertise in his field and his nationally recognized involvement in new device therapies have helped interventional cardiologists use catheter-based procedures to treat coronary and valve conditions without the need for open-heart surgery.
---
We are thrilled to recognize Dr. Ricciardi's accomplishments in interventional cardiology by naming him to the Walgreen Chair. His efforts continue to advance the field, leading to significant improvements in the quality of life for those who suffer from coronary artery disease, vascular disease and acquired structural heart disease."

Gregory Mishkel, MD, MBA, Chief of NorthShore's Division of Cardiology and Co-Director of the NorthShore Cardiovascular Institute
The Walgreen Chair, which was established through a generous gift from the Walgreen family in 1996, is one of 39 endowed chairs at NorthShore and one of several made possible through the Walgreen family's philanthropy.
Dr. Wild, a pediatric hospitalist, now sits in the Alvin H. Baum Family Fund Chair of Simulation and Innovation. She serves as the Director of Medical Simulation for the Grainger Center for Simulation and Innovation (GCSI). In her role at GCSI, Dr. Wild is charged with maintaining a standard of excellence for experiential learning and bringing lessons learned in the practice space to the bedside.
---
Dr. Wild is an exceptionally talented physician and a star in the field of medical simulation and innovation. She is greatly deserving of this recognition and has already begun to elevate NorthShore's Grainger Center to the highest echelon, pushing boundaries and incorporating the most successful concepts such as mastery learning."

John P. Erwin III, MD, FACC, FAHA, FACP, the Louise W. Coon Chair of Medicine and Chairman of the Department of Medicine
---
The Alvin H. Baum Family Fund's mission is to better the lives of those who live and work predominantly in the Chicagoland area. Through innovative grants and collaborations, the Fund helps ignite new ideas and promote solutions to ensure healthier, more equitable and more peaceful communities. Alvin H. Baum (1901–1982) operated a very successful investment firm in Chicago. He and his wife, Ann (1922–2005), were compassionate individuals who supported a broad array of charities as well as needy and deserving individuals.