Welcome to the NorthShore Foundation's Doc Talks—a series of conversations between some of the best and brightest physicians at NorthShore University HealthSystem (NorthShore) discussing innovations and advancements that help everyone in our communities be their best.
Our first Doc Talks offering is a conversation about personalized medicine with Janardan D. Khandekar, MD, Director of Innovation and Education for the Mark R. Neaman Center for Personalized Medicine, and Peter J. Hulick, MD, the Janardan D. Khandekar, MD, Chair of Personalized Medicine and the Director of the Neaman Center.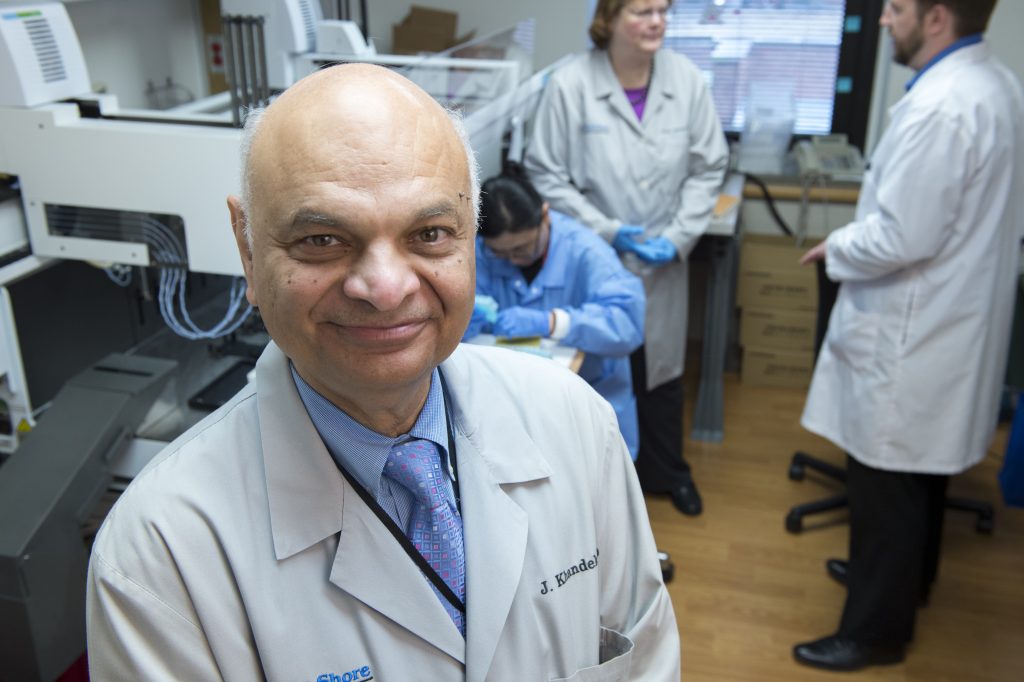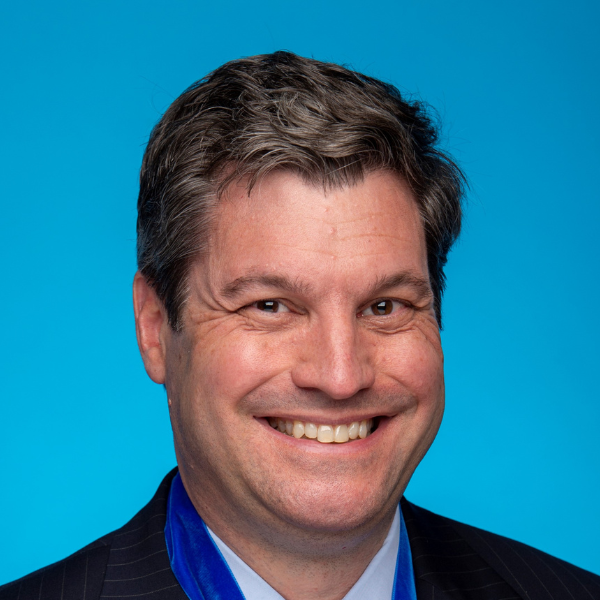 Dr. Hulick: So, Dr. Khandekar, can you share how the personalized medicine program started at NorthShore?
Dr. Khandekar: Well, I have been at NorthShore for a long time. I remember before I started at Kellogg Cancer Center, we only had two rooms for patient care, and we had to use a cart to move medicine between the patient rooms. But the goal was always to provide the best possible care to our patients, with the highest quality, in a compassionate way. In order to do so for cancer patients, we went so far as to open an ambulatory care center, and that led to a secondary connection between cancer and genetics.
Dr. Hulick: I'm curious about that. Was there ever an "aha" moment for you when you read a research article on genetics and realized this was the future?
Dr. Khandekar: Yes. In 1989, I came across a paper on identifying the gene for cystic fibrosis, and that had a big impact. I took a sabbatical to pursue research in that area and took a pay cut, as hard as that was on my family. Many people thought I was crazy to take a sabbatical at that age. But it was important to pursue research in genetics and to learn from some of the greatest scientists in the field. I still remember what they taught me.
That actually started the process for NorthShore's personalized medicine program, which was referred to as molecular medicine or individualized medicine in the early 1990s. We were very fortunate to put together a proposal for initial funding from philanthropy and clinical departments to develop a program based on genetics/heredity in cancer. In fact, Dr. Steve Sener and I had the opportunity to meet with Dr. Henry Lynch at an American Cancer Society meeting in Atlanta and speak to him about our proposal. About two weeks later, Dr. Lynch called me and said he would be our first division director!
Dr. Hulick: Wow! That's incredible to have the origins of our personalized medicine division with Dr. Henry Lynch. The Lynch syndrome—the second most common hereditary cancer syndrome—is named after Dr. Lynch, who discovered it. He has a huge legacy in the field of genomics.
Dr. Khandekar: Yes, he was definitely a giant in this field—but he was also the nicest, kindest person I have ever met. His hire as division director was a huge win for NorthShore, even though people thought it was crazy to pursue genetics.
Vision for Personalized Medicine
Dr. Hulick: Did you know that I came here because of your vision for personalized medicine, Dr. Khandekar? I remember during my job interview in 2008, I was asked what my top three areas of research were besides cancer, and I mentioned this thing called "pharmacogenomics." That was kind of bold to mention at that time, but it didn't hurt my chances!
Dr. Khandekar: Of course not. It was visionary, Dr. Hulick. It was very clear in the interview process, among the other national candidates, that you were the best person for the job. Your leadership has been really crucial.
Dr. Hulick: Well, I learned from the best! I thought I was just going to be here for three to five years as an experiment to see what we could accomplish. Now it's been 14 years—and thanks to all the support, from both institutional leadership and philanthropy, we've been able to push the boundaries of genetics and personalized medicine. We've been debunking this concept that genetics is too esoteric or too conceptually difficult to be mainstream medicine.
Dr. Khandekar: Yes, and that is reflected in the NorthShore model, which is very unique. Not every hospital in the Chicago area has a genetics program. What you [Dr. Hulick] are doing here is engaging primary care physicians in genetics.
Dr. Hulick: Thanks for that. Did you know we constantly get inquiries from other health systems asking us how we got here? We've hosted hospital leadership here to learn how we built our program, and then they go back and wonder if they can do the same in their health systems. And really, what we're doing here at NorthShore is a drop in the bucket when it comes to expanding the reach of personalized medicine. We wouldn't be where we are today without philanthropic support to get the resources we needed for our relatively small team. And today, we've set the standard on a national scene of what we can accomplish.
Impact of Philanthropy on Personalized Medicine
Dr. Khandekar: Dr. Hulick, in your time at NorthShore, how have you seen personalized medicine change the way we deliver exceptional care?
Dr. Hulick: So much has changed. A lot of the science on personalized medicine has been known for decades, but no one has been able to implement it and utilize it. But we've been building this program here, and that's what has kept me here [at NorthShore]. We're delivering patient care based on what we know already while also pursuing the discovery of new genes. This is moving us from a reactionary approach to medicine to proactive medicine.
None of this would be possible without philanthropic support. There's even a dedicated philanthropic fund named in your honor—the Janardan D. Khandekar, MD, Personalized Medicine Innovation Fund—that helps us pursue clinical research to make new discoveries.
Dr. Khandekar: I agree completely. Without philanthropy, the personalized medicine research program could not be sustained. The Mark R. Neaman Center for Personalized Medicine would not be here without philanthropy. And numerous research fellowships at NorthShore are made possible by donor support.
But philanthropy can also be part of the healing process for the donor. I remember being approached by the father of a 16-year-old patient who had unfortunately passed away. The father wanted to support my cancer research because of the care his son received. Because of the personal connection that donor felt to my research, I always felt it was our duty to report back to donors on how we are using their funds.
Dr. Hulick: For me, it's an honor to carry the title of the Janardan D. Khandekar, MD, Chair of Personalized Medicine, which was started with donor support, because it was your vision that started this program. We're in the genomics era of medicine, and I take great pride in truly bringing that to the bedside here at NorthShore. We're showing patients that genetics isn't destiny, but it allows you to change your destiny.
The Future for Personalized Medicine
Dr. Khandekar: Let's talk a little about where personalized medicine is going in the future. For me, I think the next phase of personalized medicine will be artificial intelligence. All this data that is out there will not be analyzable without the right tools.
Dr. Hulick: Yes, and I'd double down on that and add that informatics is important to help us leverage all the data in the electronic health records, or EHR. We need to structure our data and aggregate it so it's secure and protects patient data while contributing to external knowledge to help our patients live healthy lives. There's still more work to be done, and we're at the tipping point right now.
At NorthShore, we addressed the challenges of managing these large amounts of data by creating Flype, a web-based bioinformatics platform built by our small team of bioinformaticians. I believe this program will really revolutionize clinical medicine by helping us interpret results and provide clinical decision support.
Dr. Khandekar: That's right. Personalized medicine affects every disease, and I'm glad to say we've created a model of care that brings people from different disciplines together. I'm excited that you, Dr. Hulick, could be the director of the Center and lead our great team. We are very fortunate to be in this situation with institutional support and support from our donors.
Dr. Hulick: Thank you. I'm optimistic about the future. In genetics, we often talk about the families of the patient, and we're already seeing success stories. For example, there are families that were not aware of their health risks before taking a genetic test and afterwards, they're taking preventive measures and cancers are being caught at earlier stages. That's the impact of personalized medicine.
You think about what's next and what's the inherent risk. With our studies of the polygenetic risk score, we're just at the tip of the iceberg. That's an area where philanthropy can help fuel what we want to implement next. Risk is a giant jigsaw puzzle, and we're putting in as many pieces as we can.
---
These efforts would not be possible without philanthropic support. We are powered by the generosity of donors who directly impact NorthShore's ability to deliver on our commitment to community-connected care.